[Photos by acidjack]
If you had told me back in 1997, when bands like Mogwai first hit the scene in the U.S., that heavy instrumental post-rock would one day be a somewhat popular genre, I'm not sure I'd have believed you. Sure, some of the credit goes to TV and movie soundtracks, but mainly, this genre's emergence is the results of relentless touring and high-quality output of its practitioners. Boston's Caspian, part of what could be called the second wave of the scene, and masters of the style, are a great example. I first saw them deliver their relentless, dynamic show at the relatively tiny Studio at Webster Hall back in 2010. Now, an album and a couple EPs later, they can pack them in at Bowery Ballroom on a freezing Sunday night. For progressive music, progress.
Caspian practice the same soft-loud dynamic as many of their contemporaries, but what struck me about this show was how heavily this band emphasizes the loud part of that. The whole room shook with the sound of songs like the band's classic "Moksha", with its epic sweep, or "Ghosts of the Garden City" from the album Tertia. From the band's latest EP, Hymn for the Greatest Generation, we got "Halls of the Summer", a forward-looking track that shows the band is keeping up with current trends by incorporating subtle-yet-effective electronics.
This has been a hard year for the band, having lost bassist Chris Friedrich unexpectedly earlier in the year. The band's attitude has been to celebrate Chris' legacy by moving onward and forward with their music. This show, and the huge reception by the fans, shows that it's working. We hope to see Caspian's upward trajectory continue.
I recorded this set in the usual manner for the venue, with Schoeps MK5 cardiod microphones and a soundboard feed from the house engineer Kenny. The sound quality is outstanding. Enjoy!
Stream "Halls of the Summer"

Download the complete show [MP3] | [FLAC] (files and full streaming set are hosted on the Live Music Archive)
Note: All of the material on this site is offered with artist permission, free to fans, at our expense. The only thing we ask is that you download the material directly from this site, rather than re-posting the direct links or the files on other sites without our permission. Please respect our request.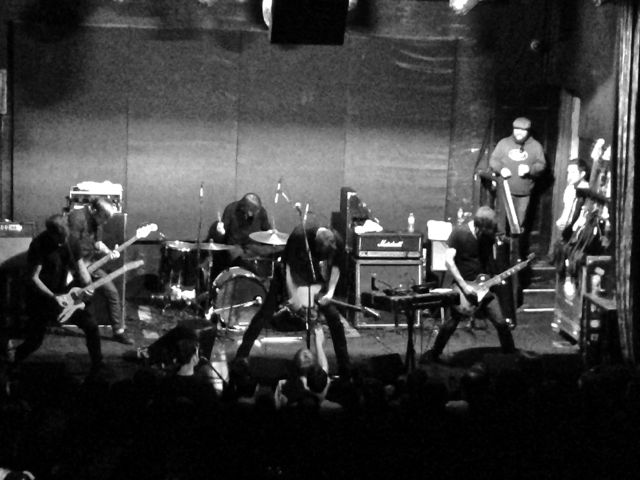 Caspian
2013-11-24
Bowery Ballroom
New York, NY USA
Hosted at nyctaper.com
Recorded and produced by acidjack
Tracking by IceMan
Schoeps MK5c (30cm PAS Bar)>KC5>CMC6>Sound Devices USBPre2 + Soundboard (engineer: Kenny)>>Edirol R-44 [OCM]>2x24bit/48kHz WAV>Adobe Audition CS 5.5 (mixdown, adjust levels)>Izotope Ozone 5 (EQ, effects)>Audacity 2.0.3 (fades, tracking, amplify, balance, downsample, dither)>FLAC ( level 8 )
Tracks [Total Time: 1:11:06]
01 Fire Made Flesh
02 Moksha
03 Quovis
04 Further Up>
05 Further In
06 Gone In Bloom and Bough
07 Halls of the Summer
08 Ghosts of the Garden City *
09 Sycamore
If you enjoyed this recording, please support Caspian, visit their website, and buy Hymn For the Greatest Generation and their other releases from their online store.